The Bahamas is an archipelago of 700 islands and islets in the Atlantic Ocean, east of Florida, north of Cuba and the rest of the Caribbean and western Turkey and Caicos Islands in the British dependency. Its capital is Nassau, located on the island of New Providence.
The largest in the Bahamas islands is Andros, in the west. Andros is The Bahamas archipelago of three main islands: North Andros, Mangrove Cay and South Andros. It measures 104 miles long and up to 40 miles wide. It has the third longest barrier reef in the world, 140 miles long and many blue holes.
Abaco is the second largest territory in the archipelago of the Bahamas, the Abaco island chain consists of Great Abaco, the main island and Little Abaco.
New Providence Island, east of Andros, is the site of the capital, Nassau, and represents two-thirds of the total population. Other important islands are Grand Bahama to the north and Inagua in the south. Paradise Island is connected to the island of New Providence by two bridges across Nassau Harbour. Grand Bahama is the fourth largest island in the Bahamas in size. The island is 96 miles long with a maximum width of 17 miles. It is located 55 miles east of Florida.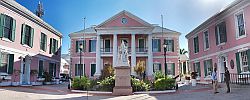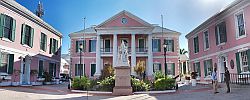 Eleuthera is an island of the Bahamas, lying 50 miles east of Nassau.
The Exumas Islands have a total of 365 islands and islets, some of them are private. Two inches of the bottom at low tide and in places not more than twenty at high tide. It feels to walk from island to island along the string of 365 beads. The marine park Exumas is known as an aquarium. Exceptional clarity and vibrant colors reveal an abundance of sea life: seaweed, giant sponges, corals, fish convicts, striped grouper, snapper yellowtail, clown fish ... Sharks can also arise unexpectedly. Throughout the archipelago, there are about seventy species of sharks.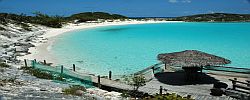 Most of the islands - coral formations - are relatively flat with some low hills, the highest is Mount Alvernia on Cat Island, 69 yards. The local climate is tropical, moderated by the warm waters of the Gulf Stream.
The Bimini Islands are separated by only 50 miles from Miami (Florida), the archipelago is home to many American fishermen coming by boat. Diving is also a popular activity, many shipwrecks lying in the waters nearby.
Long Island is famous for its numerous natural caves underground and underwater. In particular, there are the Deans Blue Hole, the deepest flooded sinkhole known in late 2010. It is also one of the largest natural underground volumes listed.
Link Exchange with VacationKey Bahamas
Discover all offers of Bahamas villa vacation rentals http://www.vacation-key.com/locations_5875.html