Overview
Anjajavy Hotel
Anjajavy hotel is located on the west coast 120 km north of Majunga, Anjajavy is a remote fishing village on an extraordinary peninsula at the end of the world.

It lies in the heart of the Boina Sakalava territory and can only be accessed by air.
Anjajavy operates its own private flights on a seat rate from Antananarivo or Nosy Be.
The flight offers magnificent vistas of the coastline and interior scenery and lands at a private runway on the Anjajavy peninsula. Guests are met at the landing strip where they are transferred to the hotel in an open 4x4. 90 minutes from Antananarivo/ Ivato airport.
1 hour from Nosy Be airport


ACCOMMODATION
The hotel consists of 24 individual rosewood villas facing the sea.
On the ground floor, each villa provides a large sea-facing terrace, a living room and a bedroom. A small staircase provides access to the first floor loft room, which can be used as a children's/guest room for up to 2 additional people.

The bathroom on the ground level has a large bath, shower and separate lavatory.
Villas are maintained at an ideal temperature by silent air-conditioning systems.

Ground floor:
- Lounge area and an eating area
- Queen size bed under mosquito netting
- En-suite bathroom with separate toilet
- Tea station and mini-fridge (this is always stocked with fresh water and can be stocked
with other drinks on request)
- Hairdryer

All rooms have a silent built-air-conditioning.

First floor/loft room:
Ideal for children with parents
- Working area
- Twin beds

Veranda:
- Large deck with hammock, coffee-table and
chairs
- Foot hose for cleaning sand off feet





WINING & DINING

Anjajavy offers a fine dining experience. Meals are French-inspired and highly dependent on seasonal availability. Malagasy dishes are on offer for those who wish to experience the excellent local specialties.

Breakfast offers everything from fresh seasonal fruit, croissants and yoghurts to a full cooked breakfast.

The lunch menu offers 3 to 5 choices per course. Meals are usually plated and the menu changes every 2/3 days.

Dinner is a small fine dining 3-course meal with 2 or 3 choices per course. Beach BBQ's are also arranged. Dinners in The Oasis, on the beach or on the villa terrace can also be arranged, especially for honeymooners.

The Oasis offers a refreshing environment in which to escape the heat of the day.
A variety of aquatic plants, papyrus reeds, tree ferns, climbing plants and palm trees are home to humming birds, lemurs, malachite kingfishers, and many other species.
This is also the setting for afternoon tea with refreshing soft drinks, teas and cake.



ACTIVITIES AND EXCURSIONS

Anjajavy has a wonderful beach which is lovely for swimming just in front of the villas and a protected marina. With a relatively low gradient beach, the tidal difference is about 10m. A wide variety of activities is available from the beach in front of the hotel and at the marina.

Activities that are paid for:

Fishing – per boat rate for a maximum of 4 people
- 3 hours: in a 15 km radius for small haul fishing
- Half day excursion: 3 hours to reef plateau 30 km away for small haul, long haul,
poppers, and angling
- Full day excursion 3 hours: to reef plateau 30 km away for small haul, long haul,
poppers and angling






Boat excursions
- Moromba Bay: a guided boat trip along the coast with outstanding scenery of eroded
islands and beautiful rock formations jutting out of the sea. Refreshments are served.
- Mangrove tours: guided sunset boat trip (1 hour) through the protected mangroves with
drinks on board. Excellent for birding.
- Water skiing

Free activities include:
Speed-boat driven inflatable
Catamaran sailing
Wind surfing
Snorkelling (includes mask, snorkel and fins)
Kayak in the sea or mangrove
Village boat trips
Mountain bikes
Fresh water pool at the main lodge
Badminton
Volley Ball
Billiards
Traditional Pirogue


Within the 450-hectare reserve, the hotel offers a wide variety of wonderful walks which guests can either do unguided with a clear map, or with one of the hotel guides. Excursions and walks are open to everyone and most do not require any special physical aptitude. Sign-posted paths from the hotel lead guests to the forest and surrounding bays.


Amenities
1 BR, 1 bed(s) 2 pers, 2 bed(s) 1 pers, 1 BA, 1 shower(s)
Refrigerator
Hair dryer
Air-conditioning
Internet access
Community pool
Handicap Accessible
Terrace
Activities
Night Life
Beaches
Spa
Biking
Boating
Deep Sea Fishing
Fishing
Kayaking
Snorkeling
Water-skiing
Sea : On site
Beach : On site
Rates
Additional information


Location :
Apart Hotel > Madagascar > Boina Sakalava > Boina Sakalava
Nearby city/cities : Majunga
Nearest airport : Antananarivo,90 minutes; Nosy Be,1 hour
Contact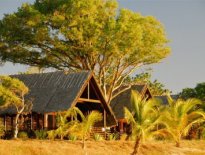 . Anjajavy Hotel
Spoken languages : English, French
Boina Sakalava
Boina Sakalava
Madagascar