Sunny beaches on crystal-clear lakes, ice-capped and precipitous peaks, romantic vineyards and luxuriant forests, lush pasturelands and isolated marshlands: Austria's federal provinces offer sceneries of rare beauty ! The landscapes, old towns and cities are a reflection of the history and culture that has developed over the centuries.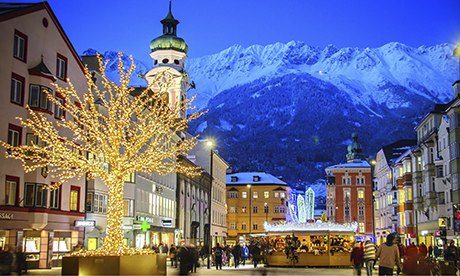 Austrias beautiful towns have baroque city centres that combine a rich artistic heritage with a well-preserved lifestyle in which coffee and pastries still play a very important role :Fall for Vienna's Imperial palaces, opulent Jugendstil cafés and the Museum Quartier's cultural riches. Mozart runs through Salzburg's baroque veins. Peer above red-tiled rooftops and gables in Graz's Old Town, up to pointy alpine peaks from Innsbruck's maze of narrow streets, and seek out Roman-rooted Linz on the Danube's banks.
Austria Vacation Rentals : VacationKey offers a fantastic range of holiday accommodations in Austria : Austria vacation rentals, Austria Bed and Breakfast, Vienna B&B, Austria Holiday Home, Austria Lodge... Looking for self catering holidays in Austria ? Browse our great selection of vacation rentals : Vienna holiday apartments, Salzburg holiday homes, holiday cottages with own private swimming pool, bungalows, farmhouses, houseboats... Want to enjoy the traditional full austrian breakfast? Choose from our selection Bed and Breakfast in Austria : traditional bed & breakfast, Inns, boutique hotels, guest houses, luxury B&B's… VacationKey also offers a wide range of luxury accomodations in Austria : luxury holiday cottages, villas with private pools and hot tubs, boutique & luxury hotels, five star luxury bed & breakfasts, luxury serviced apartments in Vienna, Salzburg, Inssbruck, Graz, Kitzbühel, Lech , lodges, castle... Need inspiration for your next holiday in Austria ? Find great Holiday ideas : guided tours of Austria, boat and bike cruises, guided visit of Vienna...