French Polynesia is an overseas country of the French Republic. It is made up of several groups of Polynesian islands, the most famous island being Tahiti in the Society Islands group, which is also the most populous island and the seat of the capital of the territory (Papeetē).

Search Tahiti vacation pension, book your Overwater Bungalows, plan your Bora Bora honeymoon, or find a local travel agent who can create the perfect trip to paradise. The Polynesia Islands have something for every traveler ...
French Polynesia has five administrative subdivisions :
Windward Islands (Îles du Vent) : Mehetia, Tahiti, Tetiaroa, Moorea, Maiao,
Leeward Islands (Îles Sous-le-Vent) : Huahine, Raiatea, Tahaa, Bora Bora, Tupai, Maupiti, Mopelia, Motu One, Manuae.
Tuamotu Archipelago :
The Tuamotus are grouped into sixteen communes: Anaa, Arutua, Fakarava, Fangatau, Hao, Hikueru, Makemo, Manihi, Napuka, Nukutavake, Pukapuka, Rangiroa, Reao, Takaroa, Tatakoto, and Tureia.
Northern Marquesas : Eiao, Hatutu,,Motu Iti, Motu Oa, Motu One, Nuku Hiva, Ua Huka, Ua Pou,
Southern Marquesas : Hiva `Oa, Fatu Hiva, Fatu Huku, Hiva Oa, Moho Tani, Motu Nao, Tahuata, Terihi,
Gambier Island
s
: often considered part of the Tuamotu Archipelago
Austral Islands
: including the Bass Islands
Around fifty international class hotels can be found on twelve islands covering three different archipelagoes - Society, Tuamotu and Marquesas. Although the islands of Tahiti, Moorea and Bora Bora provide over 80% of hotel capacity, the lesser known islands are also opening top-of-the-range establishements. Although complying with international standards, Polynesian style has been respected in the overwater bungalows with the use of pandanus, bamboo and shell light fixtures. Some bungalows are fitted with glass-bottomed tables for watching the fishes without ever getting your feet wet.
For travelers who prefer the simplicity and authenticity of the local experience, family hotels are the ideal type of accommodation. The welcome is warm and friendly. Family hotels are divided into four categories: Bed and Breakfast, Holiday Family Homes, Family-run guest houses, Family hotels.
Bed and Breakfast: furnished bungalows limited to four dwelling units per home and able to accommodate twelve persons, equipped with bathrooms either private or shared.
Holiday family homes: furnished bungalows limited to nine dwelling units and able to accommodate twenty-seven persons, equipped with bathrooms and kitchenette.
Family-run guest houses: same as the above + breakfast and dinner service.
Family hotels: offers full board meal service and a la carte food menu.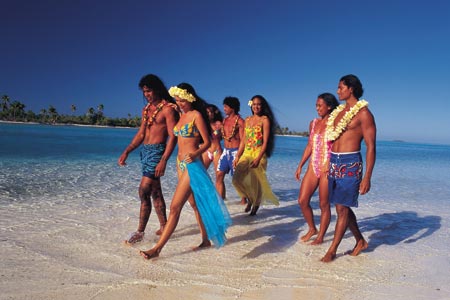 "Photos courtesy of Tahiti Tourisme"