Overview
Malaysia 2 Days 1 Night with Fantastic Nature City
Sepilok Orang Utan Rehabilitation Centre

The SOURC giving tourists the opportunity to watch the orang utan up close in their natural habitat. A boardwalk leads you to a viewing gallery and feeding platform where the apes are fed by rangers.The center taking care of about 80 apes, keeping the endangered Sumatran rhinoceros, elephants and other rare animals as well.

Bornean Sun Bear Conservation Centre

The mission of the Bornean Sun Bear Conservation Centre in Sabah, Malaysia, is to promote sun bear conservation in Borneo through animal welfare, conservation, rehabilitation, education and research - giving captured sun bears a better home and restoring their right to live in the wild, by:

Creating the capacity to confiscate, rehabilitate and release suitable orphaned and ex-captive bears back into the wild.
Providing an improved long-term living environment for captive bears that cannot be released.
Educating the public and raising awareness about this species.
Achieving increased protection for sun bears and their habitat through ongoing research, increased knowledge and awareness, and further protection of habitat.


Kinabatangan River

Stretching 560 km from the Crocker Range in the southwest of Sabah to the Sulu Sea in the east, the Kinabatangan River sustains one of the world's richest ecosystems. The lower basin of the river itself is the largest forest covered floodplain in Malaysia and has the largest concentration of wildlife in the South East Asian region. A trip up the river at dawn or dusk is the best opportunity to see the wildlife, eg. Proboscis monkeys, langurs, orang utan, hornbills, kingfishers, mangrove snakes and etc. You might even sight an Asian elephant or a Sumatran rhinoceros wandering through the trees.


Gomantong Cave

Described by WWF as 'the best-managed edible birds' nest cave in the world', Gomantong Caves in the heartland of the Gomantong Rainforest Reserve have been the focus for birds' nests for centuries. There are two cave complexes - Simud Hitam (Black Cave) soaring up to 90 metres high and the more accessible of the two, and Simud Putih (White Cave), where the more valuable nests are found. A well-maintained boardwalk gives you easy access to do some exploring or watch the skilled harvesters at work.


Sandakan Nature City

Sandakan is located on the eastern seaboard of Sabah. It is a city which is steeped in history. Its character is shaped by the hinterland that embodies Sabah's rich and diverse biodiversity in all its glory.

Itinerary

1st Day
08:30am - Pick up at hotels. Transfer to Sepilok Jungle Resort (SJR).
09:30am - Take a 5 mins leisure walk to the nearby Sepilok Orang Utan Rehabilitation Centre (SOURC), watching the Orang Utan and scheduled video show programmes (25 mins) and visit to the Exhibition Hall. Advance to Borneon Sun Bear Conservation Centre.
11:30am - Lunch enroute at SJR.
13:00am - Continue overland to Bilit, Kinabatangan River. Upon arrival, a warm welcome by the staff followed by an afternoon tea with some local bites.
16:00pm - After a short briefing by the nature guide, take an afternoon cruise along the Kinabatangan River (Sabah's longest river at 560km) where you can observe wildlife on the boat itself.
18:00pm - Dinner and stay overnight at Bilit Adventure Lodge (Twin Sharing Basis).

2nd Day
06:00am - Wake up to the calls of gibbons and birds and start the day with an early river cruise.
07:00am - After the cruise, proceed back to the lodge for breakfast.
08:30am - Drive overland (25 mins) to reach Gomantong Cave to explore the largest limestone and bird nests cave in Sabah where millions of swiftlets make the cave their home.
10:30am - Transfer to Sepilok Jungle Resort for lunch.
14:00pm - Afternoon, depart for Sandakan Nature City Tour.
17:00pm - End of service.
Amenities
1 BR, 1 bed(s) 2 pers, 1 BA, 1 shower(s)
Activities
Shopping : about 10 mn on foot
Points of Interest
Sandakan Memorial Park
Central Market
Sepilok Orang Utan Rehabilitation Centre
Puh Jih Shih Buddhist Temple
Agnes Keith Museum
Bornean Sun Bear Conservation Centre
St. Michael's Church
English Tea House
Kinabatangan River
Rates
per night, from MYR 999

Additional information

Included
- Return land transfer,
- English speaking guide
- 1 night Twin Sharing Bedroom (A/C)
- entrance fee
- local bites
- breakfast *1
- lunch *2
- dinner *1

Warm Remind
- Special tip: Birds' nest collecting is done usually between February and August.


The Malaysian Customs Department ("RMCD") is imposing a Tourism Tax on guest at the sum of MYR 10 nett per room per night with effect from 1st September 2017. Please direct pay to tour guide.
Location :
Chalet > Malaysia > Borneo Sabah > Kinabatangan
Nearby city/cities : Sandakan
Nearest airport : Sandakan Airport
Contact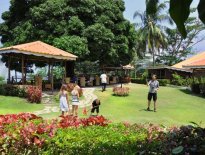 SB18
Spoken languages : English, Chinese