Overview
Malaysia Borneo Sabah 3Days 2 Night With Trusmadi Extreme Trek
Trip, Leisure
Mount Trusmadi (2642m / 8669ft) is the 2nd highest mountain of Malaysia after Mount Kinabalu (4095m / 13435ft) located within Forest Management Unit (FMU-10). Bordered by the district of Ranau on the north, Tambunan on the west, Keningau on the south and sub-district of Sook on the east there are multiple approaches to climb the mountain. These are Wayaan Kaingaran, Wayaan Mastan and Wayaan Manna each respectively with a distance of 4.9KM, 4.3KM and 11.6KM to the summit of Mount Trusmadi.

It is an important conservation area covering upland mixed dipterocarp forest, and unique montane flora namely Nepenthes trusmadiensis and Nepenthes macrophylla. The Raja Brooke's birdwing butterfly and up to seven species of hornbill are among the animals depending on FMU-10 for survival.

Mount Trusmadi trail retains its natural characteristic making it tougher to trek while at the same time much more rewarding for the observant hiker. Moving through the twisty and uneven terrain requires the agility of using all four limbs with the aid of ropes and aluminium ladders in tricky sections. The best reward of it all is the dawn view of Mount Kinabalu off to the north east for those reaching the summit of Trusmadi well before dawn.

Itinerary
1st Day
07:30
Meet in Hotel and depart to the town of Tambunan. Journey takes roughly 2 hours and passes by Kipandi Butterfly Park and Rafflesia Reserve (Entrance fee by own expenses).

10:30
Arrive at Tambunan town for last minute supplies run and early simple lunch local coffee shop (by own expenses).

12:00
Depart from Tambunan town to Forestry checkpoint of FMU 10 for registration and briefing by Forestry staff. Continue on journey by vehicle to the starting point at Taman Kitingan.

14:00
Begin trek to rest house at KM2. Easy boardwalk trek among the upland dipterocarp forest.

16:30
Arrive at rest house. Prepare for tomorrow early morning trek by having an early simple dinner and sleep.


2nd Day
01:00
Wake up and have a simple breakfast.

02:00
Depart to starting point at Taman Kitingan and begin trek to summit.

07:00
Expected arrival at the summit and enjoy the panorama view.

08:00
Transfer back to the rest house while taking the opportunity to photograph the unique flora and fauna of Trusmadi.

12:00
Simple Lunch at Mirad Irad Base Camp.

18:00
Have simple dinner and rest.

Overnight at Mirad Irad Base Camp (please prepare your own sleeping bag).

3rd Day
08:00
Wake up and have a simple breakfast.

08:30
Transfer back to Tambunan town and return to Kota Kinabalu city.

10:30
Estimate time of arrival.

10:30
Estimate time of arrival.

Warm Remind
SPECIAL NOTE: It is recommended that all climbers should have themselves medically checked before attempting any mountain climb. If you have a history of suffering from the following aliment, it is highly recommended that you should refrain from climbing - Hypertension, Diabetes, Palpitation, Arthritis, Heart Disease, Severe Anemia, Peptic Ulcers, Epileptic Fits, Obesity (Overweight), Chronic Asthma, Muscular Cramps, Hepatitis (Jaundice); or any other disease which may hamper the climber.
Things to wear & bring : suitable walking shoes and sandals, warm clothing, windbreaker/raincoat, change of clothes, hiking socks, hiking pole, lip gloss, lotion, insect repellent, drinking water and high energy food (chocolates, raisins, nuts, glucose), instant food: noodle, biscuit, buns, fruits & canned food, first aid kit, basic toiletries, binoculars, mobile phone, whistle, water proof bag, sleep bag, camera and torchlight.
A porter charge MYR80 for the first 10 kilogram and MYR8 per kilogram thereafter. Simply ask for porter service on climbing day upon registration.
Do not collect plants and animals as souvenirs, cutting trees, smoking, hunting, lighting of excessive fire, activities polluting the natural habitat, vandalism activities.

Rates
per person, from MYR 1550

Additional information

Included
- Return land transfer
- mountain guide
- climbing permit
- insurance
- certificate
- 2 night accommodation
- breakfast * 2
- lunch * 1
- dinner * 2

Location :
> Malaysia > Borneo Sabah > Kota Kinabalu
Nearby city/cities : Kota Kinabalu
Nearest airport : Kota Kinabalu International Airport
Contact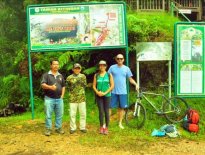 CHING SB91
Spoken languages : English, Chinese