Overview
Malaysia Borneo Sabah With Bohey Dulang Island Hiking And Snorkeling
Trip, Leisure
Bohey Dulang has one of the most unique and unusual plant communities in Borneo, especially coastal forest and scrub vegetation. Some plant species here are regional endemic to Semporna islands and Philippines, and not found in other locations of Borneo, for example, rare Paraboea leopoldii on cliff faces, Dracaena multiflora monocot, palm-like Cycas rumphii, cactus-like succulent Euphorbia lacei and trichoglottis geminata, a rare epiphytic orchid grows on volcanic rock.

Wildlife such as long-tailed macaque and otter also live on this island but not in great number. A total of 48 bird species comprising mainly resident birds have been recorded around Bohey Dulang. The notable bird species are Metallic Pigeon (Columba vitiensis), Nicobar Pigeon (Caloenas nicobarica), Tabon Scrubfowl and Pied Hornbill.

On top of Bohey Dulang, you can have a bird-eye view of the sapphire-colored Bodgaya Lagoon embraced by emerald forest of three central islands (Bodgaya, Bohey Dulang and Tetagan), the only islands in Sabah made of volcanic rock and part of the Sulu volcanic chain. In fact, the lagoon, which is about 6.5 Km across, is a crater of an ancient volcano erupted 2.5 million years ago.

Itinerary
07:00
Pick up from hotel in Tawau City. (Extra Transportation Service - price not included)

08:30
Reach Semporna Jetty.

08:35
Depart from Semporna Jetty to island.

09:30
Arrive Bohey Dulang Island.

09:35
Start hiking in the island.

11:30
Lunch time.

13:00
Start snorkeling activity.

14:00
Take a break and relax yourself.

15:00
Transfer back to Semporna Jetty by speedboat.

Warm Remind
Recommend to bring: extra pocket money, insect repellent, sun-block lotion, change of clothes, towel, cap/hat, slipper.
Points of Interest
Enjoy the sunshine of the island
Rates
per person, from MYR 330

Additional information

Included
- Return boat transfer to/from Semporna
- snorkel equipments
- tour guide
- lunch * 1
- jetty fee
- conservation fee
Location :
> Malaysia > Borneo Sabah > Kota Kinabalu
Nearby city/cities : Kota Kinabalu
Nearest airport : Kota Kinabalu International Airport
Contact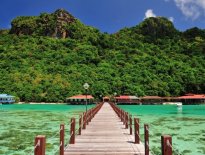 CHING SB99