Overview
Nathalie's Farm
Trip, Excursion, Sport, Leisure, Family, Group - Incentive, Tourist Attractions, Unusual Vacation
Israel Discover a Horse Farm with Tours &Workshops

Welcome to Nathalie's Farm!

We invite you to come and enjoy different experiences with horses:
• Trail ride around our ranch. We are situated in the heart of the Alona nature reserve, surrounded by grape vines, fruit orchards and open grazing land. If you are an experienced rider we can take you out on the trails for a 1.5 – 3 hour tour. The horses will be waiting for you to come and help us groom and saddle them and if you have not ridden in a while we can start with a short warm-up in the arena.
• A day out with the horses. For experienced riders only. Nothing like taking a whole day to enjoy the scenery and spend time with the horses. We will be out for about 7-8 hours during which we will visit some of the sights in the area, stop for a nice picnic and lunch break and be back just in time for dinner.
• Group workshop. Maybe you like horses but riding isn't really your thing. In this case you can come with friends and family and participate in a 3 hour workshop where you will learn how to communicate with the horses in a fun and relaxing way. No prior experience is required, just come prepared to have a good time and make new friends.
• Visit Israel on horseback. If you are into going slow and easy we can offer you a 2-5 day riding trip anywhere you like in Israel. From the Arava valley in the south to the Golan Heights in northern Israel there are beautiful trails to ride and discover what it used to feel like in the good old days. We can spend the night camping in tents near the horses or you could stay in different accommodations. These trips are tailor-made to fit your needs and fulfill your wishes so if you're interested contact me, and we will create the perfect trip for you

About me:
My name is Nathalie Ben Zeev. I have been living and working with horses for 25 years. I am a certified western and therapeutic riding instructor. I am also an Academic Art of Riding and Centered Riding instructor and have participated in EAGALA (Equine Assisted Growth and Learning Association) certification courses. Besides these I have been and still am learning how to take better care of my horses using essential oils (aromatherapy), massage, osteopathy and anything I find helpful.
I am thankful for having chosen the horses as my life and professional partners. Luckily for me the human partners in my life have been part of my journey into the world of horses.
My family, the horses and I live on our horse farm in Givat Nili, a small village near Binyamina .
A few years ago, when I first realized that what I really wanted to do with horses had to do with communication, I started listening to what they were saying. This was the first step in my journey to being a better (horse) person.
Since then and to this day I do everything I can in order to give the horses a way of life that resembles as much as possible their natural environment. They live as a group 24/7 and have constant access to fresh hay and water. I am very aware of the fact that their natural way of life does not include carrying people on their backs and that is why I am constantly searching for better ways of understanding how horses learn and what they really need to stay healthy and happy. This is how I discovered Centered Riding, Straightness Training and other methods that help us have a better connection with our horses.

Anyone can join this journey, all you need is to be ready to be yourself and care about doing what is best for the horses, which basically means treating them with respect and trying to understand what they are saying. The connection starts then and there.
It doesn't matter if you are coming for a short visit, a workshop or a three days trail ride, if you stop to meet our horses I am sure you will have a good time and maybe learn something about yourself on the way….


For more information : +972-54-7231808

Hope to see you soon !

Activities
Cinemas
Museums
National Parks
Restaurants
Shopping
Night Life
Sightseeing
Spa
Biking
Horseback Riding
Tennis
Rates
Additional information


Location :
> Israel > North - Mediterranean Coast > Giva'at Nili
Nearby city/cities : Giva'at Nili
Nearest airport : Ben Gurion INT Airport (45 min)
Contact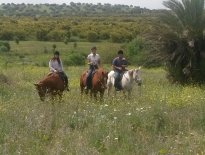 Ben Zeev Nathalie
Giva'at Nili
Giva'at Nili
Israel