Overview
Meshek Oren
Trip, Excursion, Family, Tourist Attractions
Oren Farm is located in moshav Netiv-Hagdud – the entrance is from road 90(for travelers who come from the direction of Jerusalem\Dead Sea to Tiberias\Kineret or the other way around). On the tour in the Oren Farm there will be given a peek to the life of an agricultural family in the Jordan Valley, as well as an explanation about the agricultural settlement including the different crops the residents have grown until choosing and specializing on the one that suits the best to the farm's character, to the climate and the regional conditions.

The tour includes: A visit in the plantations followed by explanations that will allow you to learn and get to know the way of growing the special trees and fruits:

Grapes: "Early Sweet" green sweet grapes and red grapes "Flame Seedless" with amazing flavor.
Figs: Brazilian figs with sweet special flavor, that are recommended for the body health
Dates: The familiar "Medjoul" dates known to be big, juicy and sweet.
Argan: The argan tree also known as the "tree of life" or "iron tree". Watching a presentation about the Argan tree explaining about its special qualities, strength, uses and as well about the Argan Oil that is known in its unique abilities for the human body's health and care.

There will be given a chance to feel, taste and purchase the products of the Oren Farm: Argan oil, figs, grapes and dates depending on the season. Throughout the whole year it is available to purchase 100% pure Argan oil: The oil is known in its unique abilities that helps the body immune system, balance blood pressure diabetes and cholesterol.
The oil also known as helpful in healing scars, chicken pox, acne, psoriasis, burns, scalp dryness and different skin diseases. Some use the oil to relief joint pains and strengthen the nails. For its containment the oil stimulates cell regeneration and for that reason it is also used for nurture by adding it to prestige "Anti-Aging" creams for slowing down wrinkle appearance on the skin. The oil is most common for hair treatment by giving the hair shine, softness, volume and helps against split ends.
Rates
Additional information

Note : The tariff at surcharge rates are purely indicative and must be verified at the time of booking in order to have the tariff in force at the time.

- Visiting is by appointment.
- 25 ILS per person for visiting and having light refreshments and tasting.
Location :
> Israel > Jordan Valley > Moshav Netiv HaGdud
Nearby city/cities : Moshav Netiv HaGdud
Nearest airport : Ben Gurion Airport (1h15)
Contact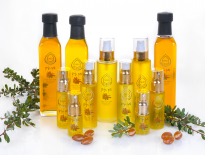 Silvi Oren
Netiv HaGdud
Moshav Netiv HaGdud
Israel