Overview
Atar Gilgal Ha-Mikrait
Trip, Excursion, Family, Tourist Attractions
Israel Kahn in the Jordan Valley-The story of the Hebrews entering the promise land and Restaurant

40 minutes from Ariel and 45 minutes from Jerusalem,much closer than you thought, you will find is a magical and surprising site..A place it is impossible to remain indifferent to- Gilgal Ha-Mikrait,TheBiblical Gilgal. Gilgal tells the story of the hebrews entering the promise land and in the first time become a nation.

We will welcome you here with open arms and offer you from our services:

- A Tour and activities about the historical events that happened here thousand of years ago..
- A Viewpoint which allows you to see the vast expanse through which the Hebrews crossed the Jordan when entering Israel.

The entire area is getting a different meaning when exposed to the metamorphosis over history- began with the findings dating in the creation of the world, later on in the Bible epoch, the Jewish Legion till the present.
- Events: We can organize your special event over here in the special ambiance of the place.
- Restaurant: in which you can taste our delicious Hummus.
- Information Station: We will help you to organize the best trip in the Jordan Valley by giving you all the information you need about attractions, special and interesting places here in the area.

- Khan: you are welcome to spend few nights here and absorb the unique atmosphere in our special Khan-by using one of the cosy rooms or by camping below the stars for your convenient there are three showers in the khan .


Rates
per person, from ILS 80

Additional information

Note : The tariff at surcharge rates are purely indicative and must be verified at the time of booking in order to have the tariff in force at the time.
- Authentic Guest house (Toilets & showers outside) = 100 ILS per night for a person
- Camping- 80 ILS per person
- Visiting the place + small tour around- symbolic price of 5 ILS per person
- For specific Tariff for events or groups tour- please contact us.

visit hours: 8:00-16:00. for arriving in different hours please contact us before.
Location :
> Israel > Jordan Valley > Gilgal
Nearby city/cities : Gilgal
Nearest airport : Ben Gurion Airport (1H 15)
Contact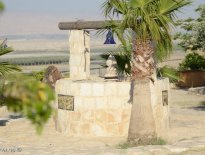 Zofia Shakuri
Gilgal Israel
Gilgal
Israel