Overview
The Ancient House In Beit Jan
Trip, Excursion, Leisure, Week end, Family, Group - Incentive, Event, Tourist Attractions, Unusual Vacation
A Fascinating Introduction To The Druze Culture And Its Roots

In an old house from the Crusader period in Beit Jan, one of those testimonies for the local history, Nidal Halabi introduces his guests with the story of the Druze community .
Nidal spices the stories about the history with anecdotes on reincarnation or medical herbs .
The tour began in the Picturesque alleys of the village, with the option to integrate drive to a lookout point.
Afterwards you will arrive to the old house there you can draw water from the old well and Nidal tells the story of the place.
You will finish off with tea and baklava it is possible to order a traditional Druze meal.

Un unforgettable authentic experience!

Activities
Museums
National Parks
Restaurants
Sightseeing
Horseback Riding
Riding
Shopping : On site
Rates
per person, from ILS 30

Additional information

- For groups 8-30 people -50 shekel per person (around 12€)
- For big groups more than 30 people- 30 shekel per person (around 7€)
Location :
> Israel > North - Galilee > Beit Jan
Nearby city/cities : Beit Jan
Nearest airport : Haifa Airport (40 min)
Contact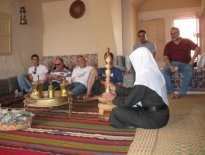 Nidal Halabi