Overview
Traktoronai Kalanit
Excursion, Sport, Week end, Family, Group - Incentive, Tourist Attractions, Unusual Vacation
The "Kalanit quad bike trails" offers you an extraordinary choice of quad bike trails overlooking the Sea of Galilee with amazing views of the surrounding Galilee. Visit us while all the fields are array with wild flowers. We offer a variety of trails according to level of difficulty – this is an experience you will never forget!

Before starting our trails, every driver/rider will receive personal instruction, a crash helmet and goggles, not forgetting a new Polaris quad bike. All our instructors are professionals with much experience and are personally responsible for making your ride a safe and enjoyable one.

We offer long or short trails starting from 1-1 ½ hours:
All our vehicles are new, with full up to date licenses and insurance.
In winter we provide you with waterproof clothing and gloves. Large groups are welcome!

Rates
per person, from ILS 360

Additional information

When coming through our website you will receive a discount of 30% on the prices listed here !
(prices before discount:)
The prices refer to a vehicle (up to 2 people) :
Short Trail (1 hour-1 hour 20 min) 360 shekel ATV, 450 shekel Buggy
Medium Trail ( 1h 30- 2 hours) 500 shekel ATV , 570 shekel Buggy
Long Trail (2 hours- 2 h30) 645 shekel ATV 785 shekel Buggy
Location :
> Israel > North - Galilee > Rosh Pina
Nearby city/cities : Kalanit
Nearest airport : Ben Gurion Airport (1h50)
Contact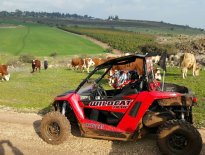 Dekel Shamaka
Moshav Kalanit
Rosh Pina
Israel