Overview
Paintball HaGoshrim
Trip, Excursion, Sport, Leisure, Week end, Family, Tourist Attractions, Unusual Vacation
Israel Attractions Paintball In Golan Heights

Looking to have an extreme fun day with family or friends?
You just found a unique, exciting place- Ha'Goshrim Paintball.

On arrival you'll sense the smell of battle, smoke rising on all sides, the sound of rescue helicopters far away, and explosions all around – Night time paintball experience.

At painball Ha'Goshrim there is no limit to the number of participants (up to 60 warriors at the same time), you can participate as a couple, a family, a solo participant or the whole office.
Also, there no limit to opening hours (!) Open 24 hr. (registration in advance)

Largest fighting area in Israel, 85 meters long, 50 meters wide,
Filled with plants, greenery and trees.
Many diverse and unique compounds, such as: two fortified targets connected by shooting canals!

We are available for activities all over the country.
For urban warfare: by special order
Location: Ramat Ha'Golan (At the urban warfare facility at Zaura). By ordering in advance.

The activity: 2 hours of fun.
The accumulated experience and sincere will of Paintball Hagoshrim management and employees to give you a unique experience, create a "winning formula" that promises participants a significant pleasure:
.
Game options:
Rising difficulty levels war games:start with simple games and continue to more and more complicated games
Battle plan: a recess between games so that warriors can plan the battle, maybe have a coffee break and continue playing.

Our motto is: "If you're not satisfied you don't pay"

Activities
Amusement Parks
National Parks
Restaurants
Sightseeing
Biking
Horseback Riding
Rates
per person, from ILS 115

Additional information

The price Includes cartridge with 100 bullets,protective equipment and a suit.
The activity is suitable for 10 years + only.

* Option to purchase a combined ticket for Paintball+another challenging activity in the area-such as- ATV, kayak, bicycle or jeep tours.
Location :
> Israel > North - Galilee > Kiryat Shmona
Nearby city/cities : Ha-Goshrim
Contact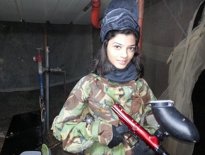 Shlomo Avi
HaGoshrim
Kiryat Shmona
Israel