Overview
Tatanka Jeep Tours In Golan Heights
Trip, Excursion, Sport, Leisure, Week end, Family, Tourist Attractions, Unusual Vacation
Israel Jeep Safari around the Golan

Jeep tours for families and groups, accompanied by a qualified and experienced guide.
On a real safari jeeps that can transform easily to open jeeps, just like in Africa.. you will enjoy the wild breathtaking landscapes of the Golan .
During day light you can choose from several options jeep trips:
* Trip near the border with Syria in the Golan, we'll Jeep in the northern part of the Golan Heights, we will reach Israel bunkers near the border, Syria's old headquarters and on the way we will enjoy the spectacular views of the Golan Heights and agriculture areas.
* Jeep tour following the Syrian old positions on the slopes of the Golan Heights with stories about the Six Day War, we will reach Syrian bunkers with breathtaking views of the Hula Valley.
* A trip to springs of water and different water sources in the Golan heights and the Hula Valley, the sources of the Jordan river, with amazing views of the nature of the north of Israel.
* Jeep Tour to volcanic phenomenon, we will reach Mount Odem for a lookout, we will get to a tuff quarry (volcanic rock), continue towards Odem forest and volcanic phenomenon of the large Juba.

And a great variety of excursions and places to visit, whose arrival by car to impossible, all accompanied by guided tour by experienced guides who live in the area every day.


In the evening, when the night takes over the Golan Heights, we go out for a night safari, with completely open jeeps, without a tarp or windows. With powerful spotlights and special lights on the jeeps we will look for nocturnal animals in their natural environment in the Golan Heights: wild boars, wolves, jackals, porcupines, snakes, rabbits, foxes, gazelles, honey badgers, nocturnal birds of prey and other animals.
We'll make a bonfire, cook herbal tea and tell stories under the stars.
The Night Safari is a unique and unforgettable experience for the whole family.
There is a possibility to order in additional fee at the end of the trip rich stew casserole on a Poyke Pot prepared by slowly cooking.
(The meal of the casserole can be ordered both day and night trips)


The trips available in Hebrew, English and Spanish.


Activities
Amusement Parks
National Parks
Restaurants
Sightseeing
Biking
Horseback Riding
Kayaking
Rafting
Rock Climbing
Beach : about 10 mn on foot
Points of Interest
City of Qiryat Shemona (25 min)
City and Lake Tiberias (40 min)
Rates
Additional information

The price is 680 shekel for a jeep of 7 people , for 2 hours tour.
Location :
> Israel > North - Golan Heights > Sha'al
Nearby city/cities : Sha'al
Nearest airport : Ben Gurion Airport (2h 30)
Contact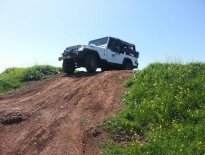 Marcos Galante