Overview
Barvazim BaKfar - The Ducklings Farm
Trip, Excursion, Leisure, Week end, Family, Group - Incentive, Tourist Attractions, Unusual Vacation
Israel Attractions Ducklings Farm in Jezreel Valley

In the heart of the Jezreel Valley, on a real working agricultural farm, a unique visitor center was established: "Barvazim baKfar - The Ducklings Farm".
A magical place where one can experience firsthand the miracle of life! Watch as the duckling grows and develops inside the egg and be moved and amazed, as it hatches and breaks through the eggshell into the big world and onto your hands!

We also tell the story of the settlement of Kfar Baruch – the establishment of a Moshav ovdim, a cooperative agricultural community, by immigrants from Romania, Bulgaria, Kurdistan, Poland and the Caucasus in 1926. We show the hardships the pioneers had to experience over the years, and where we are today.
Our family story is intertwined with the village's history – four generations of farmers in the Jezreel Valley and the story of our unique duckling farm, the only one in the country, its development and the birth of our tourist visitor center.

During your visit, you will learn, among others, about how it all began.
Starting from the courtship and mating rituals, to fertilization and embryonic development. Watch the amazing race of the sperm cells after the ovum, eventually creating the embryo. Experience the duckling's development stages.
Learn how long the duckling toils towards the hatch and listen to its first tweets from inside the egg.

Our visitors may look forward to a sensory, unique and fascinating experience,
accompanied by a professional and high quality explanation for the adult audience.

Activities
Museums
National Parks
Restaurants
Sightseeing
Biking
Fishing
Horseback Riding
Riding
Rates
per person, from ILS 43

Additional information

Entrance fee - over two years old.
Location :
> Israel > North - Jezreel Valley > Kfar Baruch
Nearby city/cities : Kfar Baruch
Nearest airport : Haifa Airport (45 min)
Contact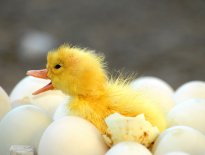 Iris Levin
Kfar Baruch
Kfar Baruch
Israel