Overview
Way Of Land -Jeep Tours
Trip, Sport, Week end, Family, Group - Incentive, Event, Tourist Attractions, Unusual Vacation
Israel Attractions Jeep Tours Golan Heights

The Golan Heights is probably the most fascinating region of the country.
Water sources, interesting animals, spectacular views and a rich history are only part of what it offers.
Our jeep tours offer a complete experience, combining a great trip in the northwestern slopes of the Golan Heights and all the entertainment options in the area.
Ofer King, In charge of the trained staff and the trips themselves, was born on Kibbutz Dan and has an impressive experience in rafting guidance in the country and abroad, brings to the tour a lot of interest, love of nature and the environment and a remarkable ability to inspire curiosity and interest everywhere you can't reach on foot or by car.

We offer several tours to choose from:

*The Short Route - two hours (650 Shekel)
We will begin by climbing the slopes of the Golan Heights from the valley ( same rout as the IDF forces in the Six Day War), we will continue in a Syrian fortifications, and from there we will drive on an ancient Roman road to Tel-Fahr / Tel Azaziat - the most important point of the hard fighting during the occupation of the Golan Heights - where we will enjoy hot drinks and snacks. We will continue to the magnificent views of the axis of the oil .

*The Medium Route - three hours (800 Shekel)
Extending the Short Route, as we continue from the axis of oil to the abandoned village of Ein-Pitt. Where we will make pita bread together and enjoy hot drinks.

*The Long Route - five hours (1000 shekel)
Extension of the medium route, from the village of Ein-Pitt we will continue to Mount Dov and drive along the Saar River. We will visit the Druze village of Ein Kinya and we will climb to the summit of the spectacular Ram Pool. We will stop for lunch at the famous Salim Shufi Restaurant , which is above the crater of the volcano . Salim Shufi - The legendary special forces officer, which helped to save Benjamin Netanyahu .
After the surprising and fascinating story of Salim Shufi we will continue to Odem forest and to the small and large Juba - an extraordinary geological phenomenon.

*Darbashiya Springs - four hours (900 shekel)
The trip will begin in the Hula Valley and along the Jordan River to the base flow of river Darbashiya . Where we will go by foot throw the riverbed to the old flour mill. From there we'll go into the village Darbashiya and the Syrian base. will finish with a ride in the river stream, until the Tina Spring and from there back to the starting point.

*Twilight Tour - two hours (650 Shekel)
Traveling during the cool breeze, in front of the special sunset views. Viewing the "changing shifts" of the animals and plants, listening to special stories and more..


Activities
Amusement Parks
National Parks
Restaurants
Sightseeing
Biking
Horseback Riding
Kayaking
Miniature golf
Rafting
Riding
Rock Climbing
Rates
Additional information

650-1000 shekel for a tour jeep (up to 8 persons in a jeep)
Location :
> Israel > North - Galilee > Kiryat Shmona
Nearby city/cities : Shear Yashuv
Nearest airport : Ben Gurion Airport (2h30)
Contact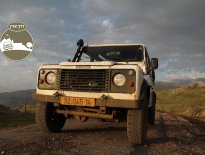 Ofer King
Shear Yashuv
Kiryat Shmona
Israel