Overview
Somek Winery
Trip, Excursion, Leisure, Week end, Family, Wine - Gastronomy, Tourist Attractions, Unusual Vacation
Israel Discover a Family Winery in Zichron Ya'akov Tour & Wine Tasting & Wine Boutique.

Somek is an intimate winery operating according to the 'Old World' philosophy.
The Winery makes a point of using only grapes from the family vineyard, cultivated by the family since 1882 in the "Bikaat Hanadiv" area, which results in high quality Estate Wines.
We at Somek believe the "Bikaat Hanadiv valley" has a unique 'terroir' receptive to the production of wine grapes of exceptional quality.
Each Somek wine you have uncorked is the end result of a long, labour intensive, enjoyable process where the grapes,sun, soil , winds and rain have come together, guided by meticulous manual intervention and our sheer love of wine.

About the owners:
Barak Dahan is the fifth generation for grape growers' family in Zichron - Yaacov. The love for wine is deeply planted in his family tradition. Together with his wife Hila - who holds a first and second degree in wine making - they established "Somek Estate Winery" at 2003.
At Somek winery we believe in top quality vineyards nurturing which allows the grapes to achieve max potential quality resulting in elegant, well balanced and complex wines. Our vineyards are planted in the footsteps of Zichron - Yaacov and are continuously cultivated in the family since 1882.
The couple combines tradition, Knowledge and experience of grape growing in the area of Zichron - Yaacov with technical, academic knowledge of wine making. The process is led by the two, where there is no compromise in all stages, while keeping a sense of creation and fun.
Together, they are also growing the six generation of cultivating the vineyards and making wine in zichron - Yaacov.

Visit the Winery:
The Somek Winery workshop is comprehensive and professional, delivered by the owner and vintner of the winery, Barak Dahan.

During the workshop Barak conveys the winery's vision and explains how the vineyards are nurtured. He elaborates on the different wine varieties and the entire wine making process that takes place in a boutique winery from the grape harvest up until the bottling. Visitors enter the barrel rooms and every step of the wine making process is demonstrated for participants to observe closely.

The workshop includes a tasting of four distinct wines from the winery.
Cost: 60 Shekels per person.
Workshops can be scheduled throughout the week, mornings, afternoons or evenings.

Activities
Amusement Parks
Cinemas
Museums
National Parks
Restaurants
Shopping
Night Life
Sightseeing
Beaches
Spa
Biking
Fishing
Horseback Riding
Riding
Shopping : On site
Points of Interest
Pedestrian Zichron Ya'akov (3 min)
Rates
per person, from ILS 60

Additional information

A winery tour costs 60 shekels per person (around 14€).
In the tour our winemaker will explain the process of making wine, and at the end, there will be wine tasting (one hour tour- by appointment)


Location :
> Israel > North - Mediterranean Coast > Zichron Ya'akov
Nearby city/cities : Zichron Ya'akov
Nearest airport : Ben Gurion Airport (1 h)
Contact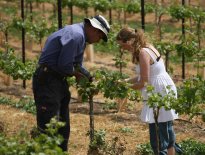 Hila Dahan
Hertzel 16 Zichron Ya'akov
Zichron Ya'akov
Israel