Overview
Israel Discover a Chef Meals & Cooking Classes in Authentic Druze Fragrance
Leisure, Week end, Family, Reception Wedding, Group - Incentive, Event, Tourist Attractions, Unusual Vacation
Israel Discover a Chef Meals & Cooking Classes in Authentic Druze Fragrance.

About Chef Maysoor:
Chef Maysoor loved to cook since childhood and at the age of 16 he first began to make a living from work in agriculture which made him connect to the earth, its smells and tastes.

Between 2006 and 2011 Chef Maysoor studied cooking in different colleges and gained experience in cooking in luxury hotel's kitchens ,and then moved to Tel Aviv where he worked in well known restaurants with the best chefs in Israel.

Today Chef Maysoor lives back in the north where he was born , and teaches various cooking workshops, and provides chef dinners and events at the client's house or in every location you will want.

In his perception Chef Maysoor advocates in upgrade the authentic-Arab Druze kitchen and integrating it with the modern kitchen to the creation of culinary at its best.
Activities
Amusement Parks
Cinemas
Museums
National Parks
Restaurants
Shopping
Night Life
Sightseeing
Biking
Horseback Riding
Riding
Rates
Additional information


Location :
> Israel > North - Mediterranean Coast > Haifa
Nearby city/cities : Daliat El Carmel
Nearest airport : Ben Gurion Airport (1 h 10)
Contact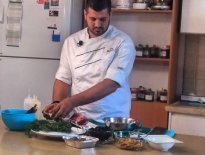 Maysoor Kiwan
Dali'at El-Carmel
Haifa
Israel